Updated 01.08.2023
Instructionts How to Use Mostbet
Are you looking to place bets on your favourite sports teams or players? Mostbet is a great site that allows users to place bets quickly and easily. In this article, we will provide instructions on how to use Mostbet and offer tips and tricks for making the most out of your betting experience. Whether you're a seasoned bettor or just getting started, this bet guide will help set you up for success. So let's get started and learn how to win with Mostbet.com!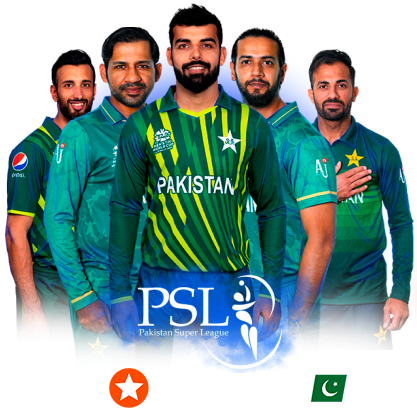 Basic Rules
Mostbet follows the same basic rules and regulations that you would find in any other sportsbook. Before placing a bet, it's essential to understand the terms and conditions of Mostbet:
All bets must be made with real money, as virtual funds are not accepted.
When placing a bet, it is also important to note that deposits and withdrawals may take some time to process, depending on your preferred method of payment.
Betting limits can also vary from sport to sport, so check the limits for each event before selecting.
Mostbet offers bets determined by its Line, which is a selection of odds in various ranges of sports.
Place a Bet button must be pressed to accept the stake, and subsequently, it cannot be deleted or the prediction revised.
The minimum bet amount is 20 PKR, whereas the maximum bet amount and winnings are 4 000 000 PKR.
In case of bet cancellation due to technical reasons, odds are refunded at a 1.00 rate; however, if one event is cancelled, the entire bet amount is refunded for accumulators and systems.
Lastly, any suspicious activity can result in rejected bets by the administration office.
How to bet in MostBet?
Are you a first-time gambler and don't know how to get started? Don't worry. Here are some simple steps to guide you in placing a bet in MostBet.
Create an Account with MostBet

The first step is to create an account with MostBet. It's free and easy to do – visit the website, enter your email address and date of birth, and create a username and password. Once you complete this step, you will receive an email containing any additional information needed to set up your account. If you want a no-deposit bonus from Mostbet, enter a promo code in the registration form.

Deposit Money into Your Account

The next step is the Mostbet deposit to have money in hand when making a bet. MostBet offers several payment methods, including credit cards, debit cards, bank transfers, and e-wallets from popular providers. Minimum deposit 150 PKR.

Choose Your Bet

It's time to choose the type of bet you want to make – sports betting or online casino games. In either case, there is a range of bets available, including popular options such as single bets (a single outcome), combined bets (multiple outcomes within one bet) or live betting (betting on matches that are currently running).

Enter Your Stake

After selecting your desired type of bet(s), all that remains is to enter the amount of money (referred to as 'stake') that you wish to wager on each outcome within the bet slip, which the website will automatically generate based on your selection(s). After logging, check out their promotions section, which has many great offers for new players!
 

Review Your Slip and Press Place a Bet

The last step before placing a wager at MostBet is reviewing all entered details particularly carefully before clicking 'Place a Bet' – double check things like stake amount & total payout – and if everything looks good, feel free to confirm & proceed with placing your first ever Mostbet!
 
What is Line and How to Use it?
Mostbet's Line may be confusing for new bettors, so here we explain the basic concepts and terms used by this bookmaker company. For further information on betting terminology on the Mostbet platform, please refer to the company's rules.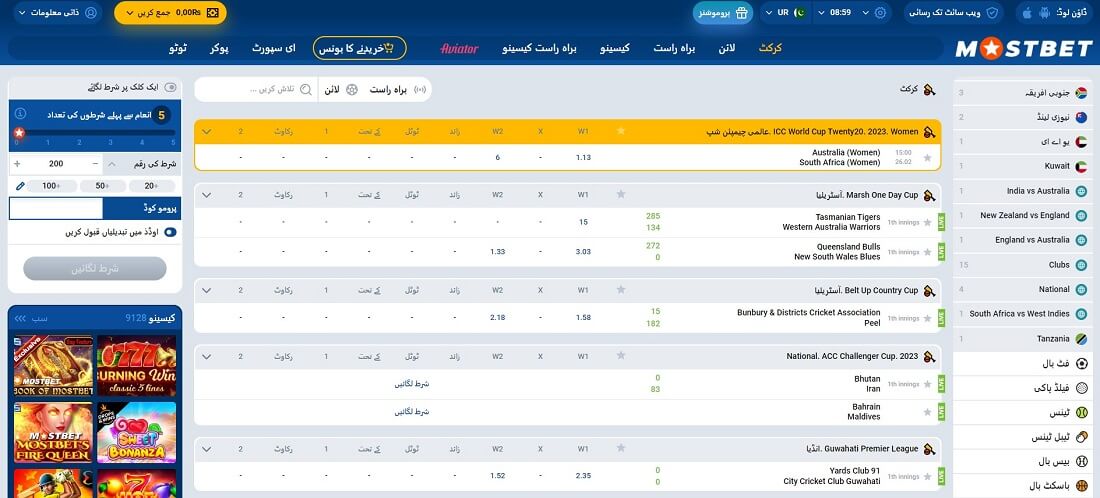 Types of bets
Mostbet offers three betting types for players: Single, Accumulator and System.
A Single bet consists of predicting the outcome of a single event; winnings are calculated by multiplying the bet amount by the multiplier.
An Accumulator is a slip with multiple outcomes, where the sum of winnings is formed by multiplying all odds in the slip but no more than 2000; if one prediction does not come true, the bet is lost.
The System gathers several accumulators with the same outcomes into one group (minimum 3, maximum 12); if any of these does not play, winnings can still be gained from other successful bets.
Lines
Mostbet offers two types of betting lines – pregame and live. Pregame bets are accepted for upcoming matches and can be placed up to a month in advance. The odds are usually stable until the game begins. Live bets are received during a match and involve much more dynamic odds, as they can change with every play or event. Both types of bets have pros and cons, so weighing your options carefully before deciding which one is right for you is essential.
Common Types of Line Bets
Main bets in Mostbet's sportsbook include:
W1 (victory of the first participant);
X (draw);
W2 (victory of the second participant);
Double Chance (W1X, 12, X2);
Total.
The bettor can also predict whether a team or player will or will not exceed the level set by the bookmaker office, which can include several conventional units such as goals, corner kicks and free kicks. Additional types of bets can be seen by clicking on the match's name, such as the exact score, the number of goals scored and penalties kicked. The more popular the event among fans, the more markets become available, which can reach more than 1,000 outcomes for top betting events.
Mostbet Betting Tips
If you're new to online sports betting, Mostbet can be a great way to get started. With a wide variety of sports and leagues to bet on, there's something for everyone. Even if you're not an experienced bettor, plenty of ways exist to make money with Mostbet. We've compiled some beginner tips to help you maximise your Mostbet experience.
Explore the Sports Market
It's essential to do your research when it comes to sports betting. With so many leagues, teams, and players all vying for the same bonus money, it can be hard to know which bets offer the best value. Understanding game stats, player performance and team standings will help you make more informed decisions when placing bets. It's also good to keep an eye on line movements and use Mostbet's predictive algorithms to get an advantage over other bettors. Research is essential for making the most out of your sports betting experience with Mostbet.
Select the Appropriate Types of Bets
Mostbet offers a wide range of bet types to suit all bettors. No matter which type of bet you choose, it's important to understand the rules and odds associated with each type before placing your wager. Researching the sports market is also essential for making informed decisions when betting on Mostbet. By researching and choosing the right bet type for your budget and risk tolerance, you can increase your chances of success betting on Mostbet!
Analyse the Odds
Analysing the odds is one of the most critical steps when betting on Mostbet. You can make more informed decisions by researching the sports betting market and understanding how likely you will win a particular bet. It can help you boost your chances of success and maximise your profits in the long run.
Before placing any bet, consider team form, home/away records, injuries and suspensions, weather conditions and even head-to-head records. The more information you have about a particular game or match-up, the better your chance of making an informed decision when betting on Mostbet. Additionally, watch for changes in odds throughout the season, as these may suggest which teams or players are favoured by punters. Considering all this before each bet can help increase your chances of success!
Manage Your Deposit
Managing your Deposit is essential when it comes to betting with Mostbet. You want to ensure you're not overspending and that you only make bets when there's a good chance of them being profitable. To do this, set a budget and track how much you've spent on each bet. It will help you stay within your limits while allowing you to enjoy sports betting.
You should also consider the size of each bet relative to your bankroll, limiting how much of your total balance can be staked on any single bet. It will help reduce the risk of losing large amounts at once and ensure that even with an unlucky streak, money remains left in your account to continue betting.
Finally, try and spread your bets across different sports markets. It will allow you to maximise profits by exploiting discrepancies between odds from other bookmakers or popular markets. With these sports betting tips in mind, managing your bankroll should become more accessible – so get out there and good luck!
Mostbet Winning Tricks
There are a lot of tricks and strategies out there to help you win when betting with Mostbet. The first thing to remember is that nobody can guarantee success, so don't be tempted by anyone claiming otherwise. That said, there are some clever tactics you can use to give yourself an edge.
Predictions
If you're looking to increase your chances of success when betting with Mostbet, then predictions can help. Betting predictions come in many shapes – from sites offering free and paid forecasts to personal prediction services, specialised software, and even algorithms. A good starting point is to look for a predictor that considers recent form and critical statistics. Such information can help you make more informed decisions when selecting your bets.
Here are the Top 10 best sites to find predictions for sports matches:
predictionmachine.com
windrawwin.com
sportspredict4.me
bangedodds.com
zulubet.com
tips180.com
freesupertips.co.uk
nowgoal.com
predictz.com
soccerpunter.com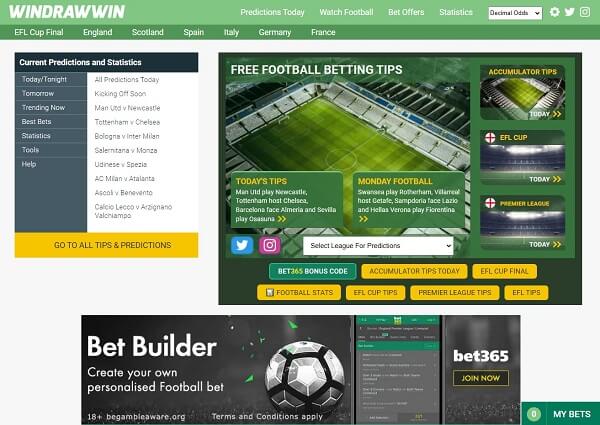 Sports Analytics Services
Analytics betting services are an invaluable tool for any serious sports bettor. By leveraging data and analytics, they can turn your betting choices into a well-calculated science. With the right combination of analytics and intuition, you can increase your chances of making accurate predictions and successful bets.
Sports analytics services will crunch the numbers to give you an in-depth look at the game before you place a bet. It includes form analysis, player performance evaluations, team strengths and weaknesses, and more. All this information is presented in a simple dashboard format so that you can quickly assess which bets are worth taking or avoiding.
Most sports analytics services also offer detailed statistical breakdowns for individual matches and customised predictions based on historical trends and current forms.
Here are the Top 10 best Sports Analytics Sites:
ProFootballFocus
FiveThirtyEight Sports
TeamRankings
ESPN Analytics
Football Outsiders
Sports Information Traders
Sportradar
NFL Savant
STATS LLC
numberFire
Betting Strategies
Betting strategies can be the key to winning big on the bookmaker platform. Whether you're an experienced bettor or just starting, having a well-defined betting strategy is essential for success. The right strategy will help you make smarter decisions when placing bets and increase your chances of making a profit in the long run.
There are many strategies, from simple approaches like money management and value betting to more complex systems like arbitrage and hedging strategies. Whichever option you choose, it's essential to stick with it and follow it consistently over time. That way, you'll give yourself the best chance of success – whether that means winning big or simply avoiding losses.
Finding the right strategy for you can take time, so don't be afraid to experiment and try different approaches until you find one that fits your style. Plenty of online resources can help point you in the right direction if you need guidance on where to start. Good luck!